Lemme ask you a simple question: where do you buy your groceries? Though we can try to guess the answer based on Tabs Analytics' research on this matter, that Brick and Mortar Grocery stores still dominate the grocery shopping as 92% of transaction accounts from them. This means, E-commerce is growing,, but due to shipping and other budget-related issues, it still hasn't been able to take over the traditional grocery market share.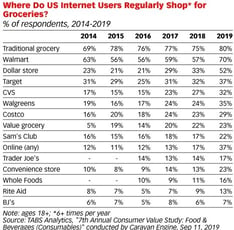 With Amazon opening Amazon Go and Walmart spending more on pickup and delivery services, online grocery is on an all-time high. However, the biggest advantage to traditional grocery stores, including Dollar stores, is that they are budget-friendly and easily accessible as opposed to online groceries' warehouse being located much further apart and not accessible to the public even if they happen to be within reach.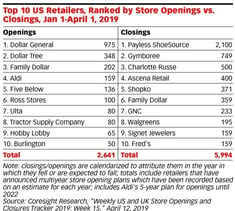 Dollar stores are opening new stores frequently. They are planning to open 1000 new stores in 2020, and at present, they have 16,000 stores nationwide.
Advantages of Dollar/Budget Stores' over online grocery:
Budget-friendly, $1 items, very cheap priced items
Nearby
No shipping fees


Advantages of Online shopping over Traditional stores:
1-day shipping is standard
Free shipping with small purchase ($25 – $35)
New B&M stores Amazon Go by Amazon
Providing pick up service in addition to free shipping
Main concerns for Traditional grocery stores:
Online stores providing free shipping for every item, without a minimum price
Online stores providing cheap products at the same price as Dollar/budget stores
With challenges come opportunities. Traditional grocery stores like Dollar stores can stay at the top of the game now and in the future too if they have a smart strategy in place.
Always keep prices competitive or lower than online prices
Always pay attention to trending products on Amazon, eBay, Aliexpress and other giant e-commerce spaces
Start taking customers' product requests—this may be the single most important reason to keep customers loyal for years if they know they can request budget products at a corner budget store
Offer pickup service
Offer delivery service
Sources: