The world has progressed manifolds in the last few centuries. Humans had to do all their work including digging holes, constructing walls, making food, cleaning dishes, building houses and other work manually, but now with the aid of machines and robotics, all these tasks can be done conveniently and many times autonomously. Similarly, during the ancient era, people used to exchange gold as a payment method for purchasing or trading. Later on, we created a currency of papers for payment methods, because carrying gold was cumbersome in comparison to paper currency. Now we have banks, which keep our currency for security and investment purposes, and also make it available for use on the internet—which is the most convenient way to use our money as compared to carrying or sending paper currency from one place to another. Now we can send money from one continent to another by just entering the account number and tapping the send button.
Now the latest and a brilliant invention of contactless payment methods have changed the way of shopping in stores. It's safe, convenient, fast and touch-free! Anyone can make a payment by just tapping their credit or debit card, or any other online payment apps on their phones to contactless payments booth increasingly becoming available everywhere.
Is it a necessity?
Yes, it is a need of the hour. Touch—being one of the primary causes of spread of Covid-19 and many other similar contagious diseases, contactless payment has become more of a necessity than a feature at your store.
Just like gone are the days of dinosaur age technology of keeping records of sales and receipts by pen and paper, that got replaced by smart POS software systems, so has the time of contactless payments arrived to replace greasy, touchy surfaces of the past!
How does it work?
Contactless payment is operated on near field communication (NFC) technology. With the use of radio frequency identification (RFID), devices communicate with the payment reader when they are close in the range of centimeters of your Point of Sale (POS) terminal. When a customer taps or waves their device over your payment reader, payment is transmitted through RFID.
Options for your Store
There are numerous contactless payment methods that you can get for your store. All you need to do is to get a POS software, which has integrated payment methods, and provides you the payment reader which can help you to accept contactless payment apps including,
Apple Pay
Google Pay
Samsung Pay
Cashapp
Zelle
Paypal
Venmo
The top three contactless payment apps are very famous and have widespread usage in the USA.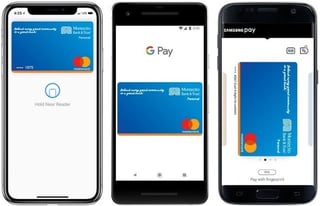 Benefits of Apple Pay
You need no app to download
It works on iMessage
It's the most secure as integrated 2FA
Apple devices only
When a customer makes a payment, it will go to your Apple Pay Cash balance, which can be subsequently transferred to your account.
Benefits of Google Pay
Preloaded on many Android Phones
Widespread acceptance
Google pay is a must these days because it is used widely by customers, and it also provides a wide range of credit card and debit card acceptance to customers including American Express, Citi, Chase, and Discover.
Benefits of Samsung Pay
A large number of users
Works at older magnetic strip terminals
Integrated on Samsung phones
Accept almost all major banks
If you have cellphone stores, you must know that Samsung phones are a high demand product all over the world including the USA. As Samsung Pay is already installed in your customer's cellphones, and they are visiting you for a purchase, you should look out for their convenience by allowing them to make payment through their cellphones.
Is it Safe and Secure?
It was a genuine concern for both store owners and customers when the contactless payment method was introduced. But with time, contactless payment providers have increased the safety of information by manifolds. With encrypted security of your cards and constant change of information on the web has made the chances of theft close to none, at least on the above-mentioned platforms like Apple Pay, Google Pay, and Samsung Pay. Also, a store owner gets their funds immediately transferred on the cash register which then goes on to their account safely.
We should all be glad that well ahead of this global pandemic, Contactless payment technology has become mainstream; else business transactions would be far worse today with social distancing and people's hesitation to touch the unknown.
Sources: