Nations are always tested during the toughest situations. But this time, it's the whole world under the microscope of Coronavirus, which is spreading fast and causing deaths all around the world. Presently on 12:00 pm EST (13th April 2020), cases of coronavirus affected are as follows:
Now, we all have to act fast and show our social responsibility towards ourselves, our families, society and the country. First and foremost is to practice Social Distancing.
Social Distancing:

Social distancing means, not leaving your house without any essential reason, staying six feet apart from each other while outside, keeping your mouth covered by mask, and hands by gloves. Because due to this we have managed to flatten the curve of COVID-19. This means by following these standards we will be able to stop the increase of Coronavirus cases to a minimum.
Helping the Marginalized:

We all know that our government has announced the Corona relief fund of $2 trillion, but it does not mean that we have no responsibility towards our homeless, jobless, immigrants, or any other marginalized segments of our society. All of us need to contribute and help others in the best way we can. It can be in a form of providing essential groceries, food, sanitary products like sanitizers, hand soaps, towels, masks or gloves to the people who can't afford it. We can also help our homeless people by providing food, and basic necessities, so that they too don't have to scatter throughout the city, whereby risking their lives and others.
Corporate Social Responsibility:
As our doctors and paramedic staff is fighting upfront against the Corona, our businesses have to support our economy and society by:


Not firing any employee
Pay employees during closure too
Contribute to relief activities by providing financial assistance to charitable organizations and government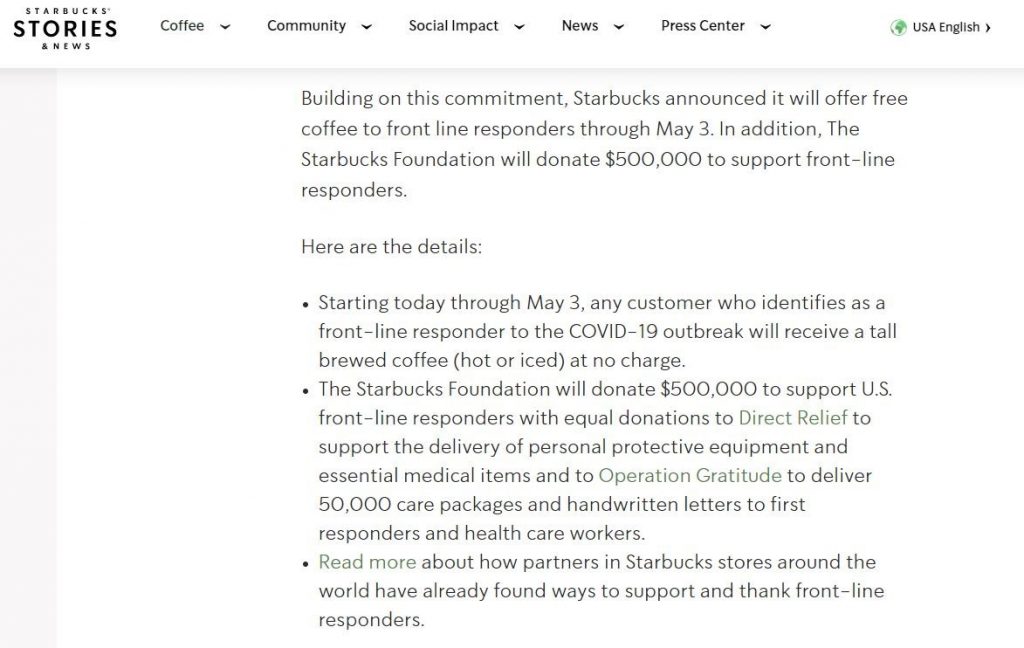 One good example of this is Starbucks. For example, Star bucks is providing $500,000 donations to frontline corona workers and also free coffee for them.
It's just one example, many other businesses are doing the same with assisting Government in the shape of donations, and providing relief to their customers with discounts. If we keep our spirits high and heart big, we shall overcome this night of COVID-19, and build a more prosperous and wealthier America like never before.
Sources: