Dear Valued Retailers,
Did you know that you could give a sales quote to your customers via CellSmart POS? CellSmart POS is tailor-made specifically for the stores that cater to multiple customers on a day-to-day basis. Some of these customers do not buy anything but are visiting the store just to get a quote for the latest phone or even a discount.
With CellSmart POS, you can actually print out a sales quote without affecting your transactions. How to do it you ask? Add the items to your register and then click on the "+" sign on your register (as shown in the image below) and the POS will let you print out a quote which you can give to the customer for future reference.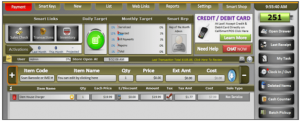 If you want to view this quote, click on the minus "-"sign on the right-hand side and you'll be able to view this sales quote.
You can also view the steps simply by watching this video tutorial
This tip will surely help you run your store efficiently and ensure that all your customers stay happy, even if they are not buying anything from your store. If you have any questions, please do not hesitate to call us at (347)391-2600 or you can drop us an email to info@cellsmartpos.com.
Thank you and happy selling!!